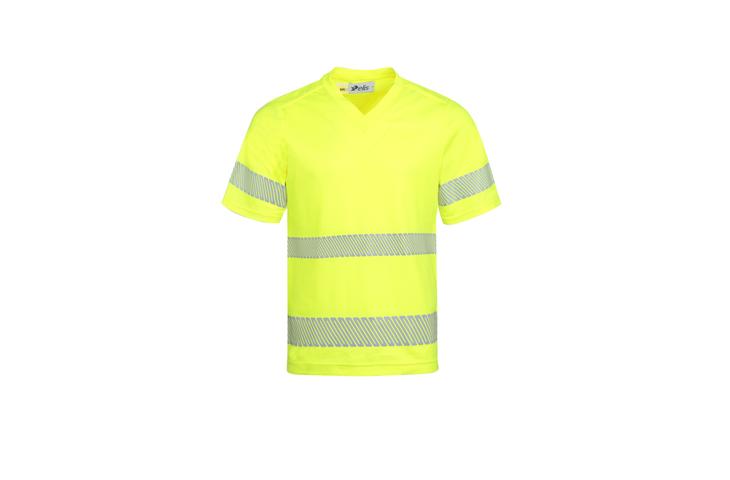 Elis service includes :
Personalised measurement

Customised according to your image and your needs

Simplified linen management

No initial investment in clothing
Need a usage notice and a declaration of conformity for your equipment?
High Visibility (HiVi) T-shirt
Our HiVis t-shirt is the ideal and modern solution to combine both protection against the risk of poor visibility, and respect for the planet (AGEC compliant). This model, specially designed for optimal wearer comfort and style, is made of cotton and recycled polyester certified 2Life with segmented retroreflective bands. This soft, lightweight, and durable combination ensures moisture management with the cotton on the inside and durability with the recycled polyester on the outside of the material. It also ensures the protection of the wearer thanks to the very good color fasteness over time.

Advantages :
- Segmented retroreflective stripes
- Modern design
- Lightweight and breathable material
- Respect for the planet
- Guaranteed French origin
- Perfect color fastness to ensure protection all along product lifetime
- Certification : ISO 20471

Elis is not only a supplier of professional clothing, we also clean personal protective equipments (PPE) through a specific washing process maintaining their protective properties at all times.
55% cotton 45% recycled polyester 2Life®, orange or yellow, Piqué knit
Sizes : 2XS à 6XL
Collar : V shape
Armhole : Set-in sleeves
Sleeves : Short
Bottom of sleeves and body: Hem
Bottom of sleeves and body: Hem
Colors : yellow and orange
Subscribe to our newsletter