Industrial wiping: A growing textile offering replacing single-use solutions
Mindful of its environmental and social impact, and keen to help its customers become more responsible, Elis brings you its new absorbent mat: the Mastermat.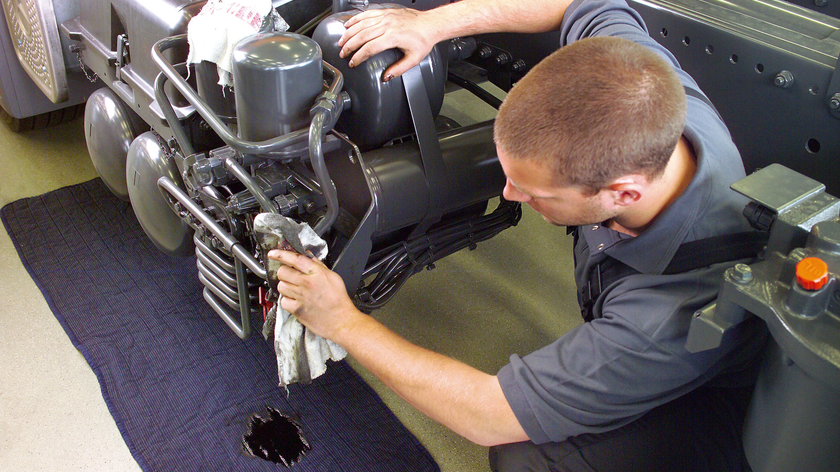 Designed for production and maintenance areas that can withstand oil and water leaks, the Mastermat absorbent mat has a high absorption capacity, surpassing that of paper or absorbent granules.
When used in combination with wipers, this absorbent mat helps keep your establishment clean – and therefore safe – for your teams.
We take care of the cleaning, delivery and collection of Mastermat absorbent mats. We come to you at the agreed time to collect the used absorbent mats and deliver the clean stock in our Masterbox. We deliver and collect the same number of mats, which encourages virtuous logistics and ensures that you always have clean mats.
Our tailor-made solution spares you the processes and costs associated with having a specific waste collector, as required by law. Elis takes over the handling of this waste and works with you to help limit how much of it is discharged in the environment.
Why choose our Mastermat absorbent mat?
With one Mastermat absorbent mat, you can replace the equivalent of five to six disposable absorbent mats and 2.8 kg of sand or absorbent granules
One mat can absorb up to six times its weight
Using a Mastermat generates five to six times less waste than a paper solution
With a business model grounded in the principles of the circular economy, the Elis Group is once again proving its commitment to sustainable development, thanks to its increasingly responsible solutions. This is what we mean by circular services at work.