Regencia, a new range dedicated to the hotel and wellness industries
1 room every 15 mins* : this includes stripping the bed, vacuuming, thoroughly cleaning the bathroom and washrooms, making the bed and ensuring the room is in excellent condition.
This is the average speed and daily work of housekeepers. They are also the face of every hotel establishment.
This collection really is dedicated to our employees and meets our high expectations for equipping our teams in our 4-star and luxury hotels across France. I sincerely thank Elis for having thought of every detail–this will make our teams' difficult day-to-day work easier.
The new Regencia collection is designed for the hotel and wellness industries, providing stylish and comfortable tunics and trousers.
The collection comes in a variety of colours and different options to guarantee an elegant and harmonious look, with a fit that is tailored to each individual. The designs have been reviewed and refined with housekeepers to ensure the perfect balance of style,comfort and freedom of movement.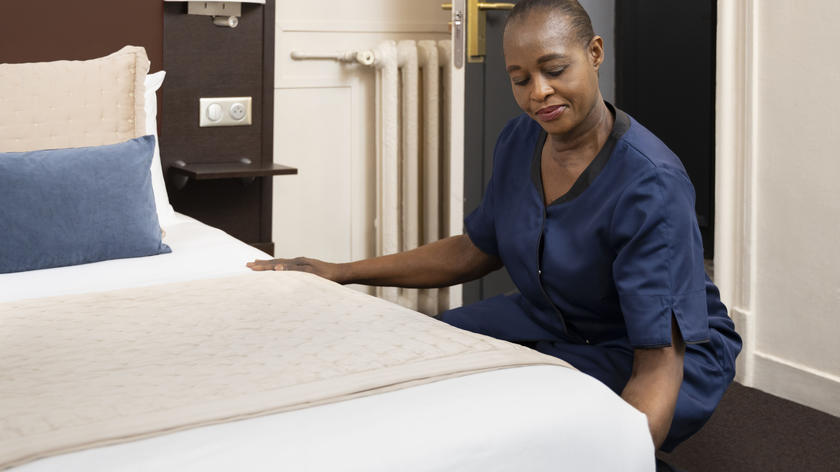 The Regencia collection is made of 50% Tencel, a natural fibre formed from wood pulp, which gives the fabric its silky texture and ensures it stays soft even after multiple washes.
The breathability of Tencel regulates perspiration and the moisture-absorbing properties of the fibre neutralises odours.
Tencel production uses less water and fewer chemical products than cotton,making it an eco-friendly material.
In addition to the hotel industry, the Regencia collection meets the style and comfort needs of all professions in the wellness industry.
Discover Regencia range's workwear :