Feminine hygiene: Innovation for a better customer and user experience
A complete solution to make life as easy as possible
Thanks to our complete feminine hygiene solution, you'll benefit from an all-inclusive service and products adapted to user expectations, and you'll ensure your establishment's compliance with washroom standards*.
Our goal is to make life as easy as possible for you. That's why, we wish to remind you that as part of the Elis feminine hygiene solution, you dedicated service agent takes the necessary steps during each visit to make sure your device is always functioning correctly:
Changing de protective blister in the lid
Proof of service with a traceability system
Replacing the bin bag
Applying an anti-odour and anti-bacterial powder
* "Women's toilet facilities must contain a receptacle for sanitary products" (Article R. 4228-10 of the French Labour Code).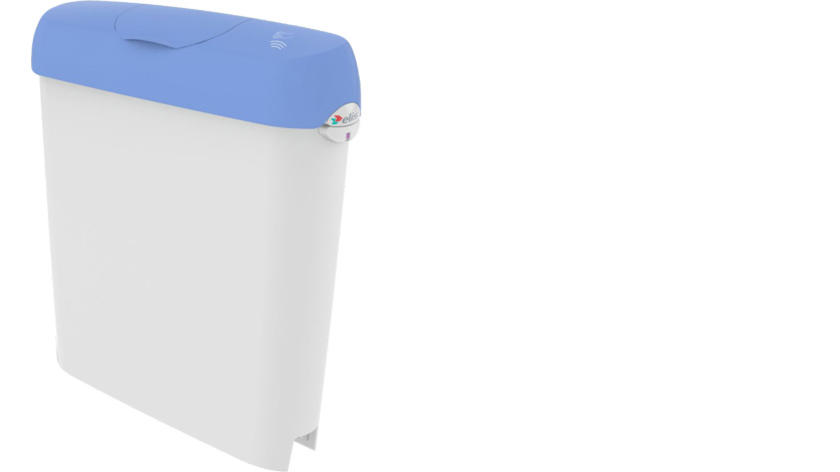 A better customer and user experience
Our new No-touch Feminine Hygiene Bin Aqualine is the result of our deep commitment to constantly evolving our products and services in order to promote a better customer and user experience.
The Feminine Hygiene Bins are available as a pedal or No-Touch version and comes in three finishes. It's also compatible with the Aqualine product range. Let's zoom on the hey improvement
For customer
Equipment monitoring service

New colour coded system to indicate that service is completed


Less obstructive waste (bottles, cans etc.)

Easy cleaning

Sleek design and wall-hanging system with No-Touch version


Better battery life

Up to 90,000 automatic lid openings with No-Touch version

For user
Increased discretion

Anti-adhesive to prevent waste from sticking

New blister with corrugated surface

Waste is out of sight

No odour and microbe-free

Treated with a biocide powder

No hand contact

Activation with No-Touch technology or with foot pedal
In addition, discover also...
To make the most of the Elis feminine hygiene bin solution, we recommend installing our Modesty bag dispenser.
Improve your brand image with our stickers
We provide you with relevant signage, because it's important to highlight your commitment to providing a comfortable working environment. Our stickers can be affixed to feminine hygiene bins and bag dispensers as well as to the door of women's cubicles, and help to improve your brand image.
Get in touch with your dedicated Elis point of contact for adhesive labels or to learn more about our feminine hygiene solution.