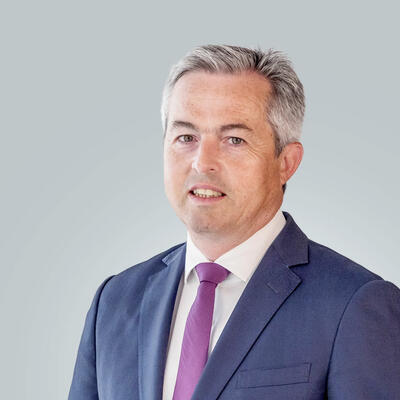 As employees, you are key players in Elis's future. And it is therefore essential that you become even more involved in the Group's success. That is why I'm inviting you to join the new employee share ownership plan, Elis for All 2021.

Elis launches its second employee share ownership plan
This ownership plan is opened to more than 40,000 employees in 17 countries.
It allows you to subscribe for Elis shares (indirectly, through an investment fund) on preferential terms via the Elis Group Savings Plan.
Between 6 May and 21 May 2021, you will have the opportunity to subscribe for Elis for all, an option that will allow you to invest in the company and become involved in the Group's development on a sustained basis.
Details of the offer
Discount

30% discount on the reference Elis share price

Matching contribution

1 free share for every 10 subscribed shares

Participation et Intéressement

Vous aurez la possibilité d'affecter tout ou partie de votre prime d'intéressement et de participation vers le Fonds ELIS FOR ALL RELAIS 2021

Your investment

Your investment is LOCKED IN FOR FIVE YEARS, except in cases where early release is permitted (see local supplement)

Your investment

Your investment is linked to the changes in Elis's share price, both upwards and downwards

Dividends

You will receive potential dividends on the shares you hold. The dividends will be reinvested in units of the employee investment fund, thereby increasing the amount of your investmentnt

account fees

The account fees charged by the employee investment fund are covered by Elis
Timeline — Key dates of the scheme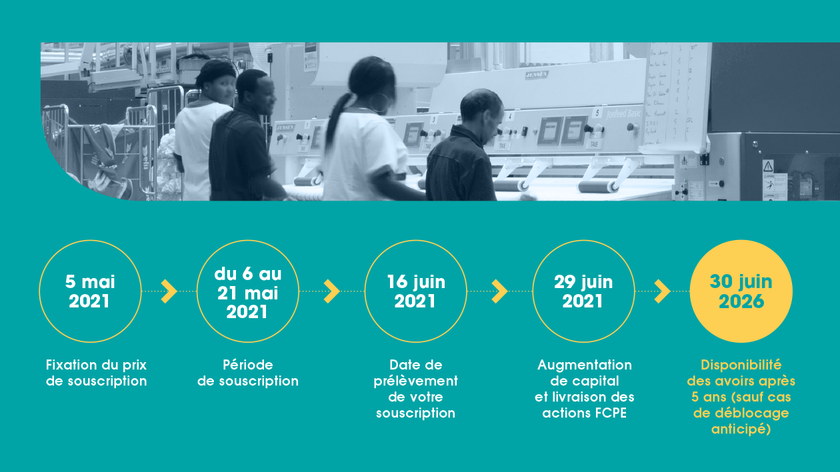 Subscribe for an offer in just a few clicks
You can apply in minutes via a simple and secure online platform:
Click on the button "Apply for Elis for All 2021"

Use the username and password sent to you by letter

Check and update your personal information

Enter the amount you want to invest
Foire aux Questions
Who can take part?

To be eligible, you need to have been an employee of the Group for at least three months as of the opening date of the subscription period.

How much can I invest?

The minimum investment amount in Elis for All is set at €50.
The maximum amount is equal to a quarter of your estimated gross annual salary for 2021 and is capped at €50,000.

What is the reference price?

Reference price: the average opening price of Elis shares on the 20 trading days preceding the launch of the scheme

How can I pay?

Par versement volontaire (prélèvement bancaire)
Par affectation de tout ou partie de votre prime d'intéressement et/ou de participation
Par arbitrage des avoirs disponibles du FCPE Elis du Plan Epargne Entreprise1

          
 Il vous est également possible d'arbitrer tout ou partie des avoirs indisponibles du Plan Epargne Entreprise. Toutefois, dans ce cas, ce montant investi ne donnera pas droit à abondement. Ce montant investi sera également bloqué pour une nouvelle période de 5 ans. 

Si vous souhaitez utiliser les avoirs disponibles ou indisponibles d'autres FPCE, assurez-vous de les transférer sur le FCPE Elis avant le 23 avril 2021 23h59.

Quels ont les cas de déblocage anticipés?

Cas de déblocage anticipé: 

Mariage ou PACS (Pacte civil de solidarité) du salarié
Naissance ou adoption à partir du 3ème enfant
Divorce, séparation ou dissolution du PACS avec enfant à charge
Violences conjugales
Invalidité du salarié, de son conjoint, de son partenaire lié par un PACS ou d'un enfant
Cessation du contrat de travail 
Création ou reprise d'entreprise par le salarié, un de ses enfants, son conjoint ou son partenaire lié par un PACS
Acquisition ou agrandissement de la résidence principale
Situation de surendettement du salarié
Décès du salarié, de son conjoint, ou de son partenaire lié par un PACS

What do I do after subscribing?

Depending on the tax system applicable in your country, your subscription, any dividends earned on the subscribed shares and the resale of those shares could be liable to tax, or you could be required to disclose the transaction to the tax authorities.
Contacts
If you have any questions about the Elis FOR ALL scheme, you can contact your local HR department. You can also send an email to the following address: fr.elisforall@elis.com.