Give your floors effective protection with the Elis professional mat solution
Choose our rental & maintenance solution for cleaning your professional mat
Why choose Elis to supply your professional mat for your workplace, break room, entrance area, kitchen or even to go in front of your fruit and vegetable stalls? 
Because we offer mats for every use
As a supplier of professional mats, Elis will offer you a tailor-made mat based your request, whether that be a company welcome mat, an entrance mat for your business, a garage mat, a bakery mat, a commercial mat with a logo, a hotel mat or a restaurant mat… Whatever your request, find your style with Elis.
 
Because we can create a mat customised to your brand
With our customisable company floor mats, you can have fun easily creating a mat that reflects your brand. Choose the shape, dimensions and customisation style (mat with your logo, advertising mat, professional themed mat, signage mat, outdoor logo scraper mat etc.), place an order and receive your tailor-made mat quickly.
 
Because hygiene is at the heart of our service, so you will always have an immaculate mat 
At Elis, we guarantee impeccable cleanliness with an industrial cleaning system and regular mat replacement to give you a better welcome and optimal comfort. Washing a mat in a washing machine, with a water jet or a vacuum cleaner does not guarantee that your commercial mat will be thoroughly cleaned and causes the mat fibres to break. Only industrial washing will provide a flawless level of hygiene. 
The benefits of the Elis mat service
Customise mats to suit your brand

Guaranteed hygiene thanks to industrial mat washing

Five collections available to meet your needs

Regular replacements for a perfect welcome at all times.
All our professional Elis mats
Our mats are designed to ensure that your business has:   
Our eco-designed mats are made from a Phoenix fibre that is 100% derived from recycled water bottles. As well as being better for the environment, the Phoenix fibre guarantees that colours stay vibrant over time.  
The Elis mat service contributes to your premises having optimal hygiene and comfort, as well as a good brand image for your customers and employees who pay close attention to your CSR strategy.   
Discover our mats collection : 
Elis guarantees mats of a high quality compared to traditional mats
Our mats are designed to ensure your business:  
A perfect hygiene of your premises

A good brand image

The safety of your customers and employees
They are also highly absorbent: 
Water: 5 L/m² 
Particles: 5.5 kg/m² 
Oils: 1.5 L/m² 
And they consist of a set of vertical fibres for better scraping of soles: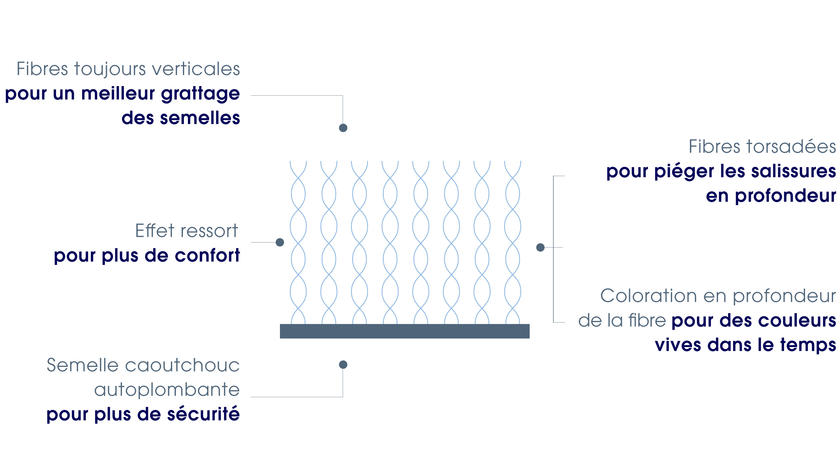 A professional mat becomes saturated and inefficient within an average of two weeks
Traditional mat:

With a traditional mat, the dirt is deposited on the surface

Elis mat:

Whereas with an Elis mat, the dirt is trapped deep
Elis rental & maintenance solution
At Elis, whatever your job, we always make sure to provide you with a range of products to simplify your everyday life. We offer you advice and solutions tailored to your needs. 
Our business model is based on rental over purchase, and services over products. Through our commitments, we hope to support you in opting for solutions that are better for the environment.  
As part of this approach of offering services and support, we have designed ranges of advertising mats and customisable company doormats that benefit from regular maintenance. 
We also provide mops and cloths for cleaning your floors.Bas du formulaire 
Besoin d'un devis ou d'une information ?