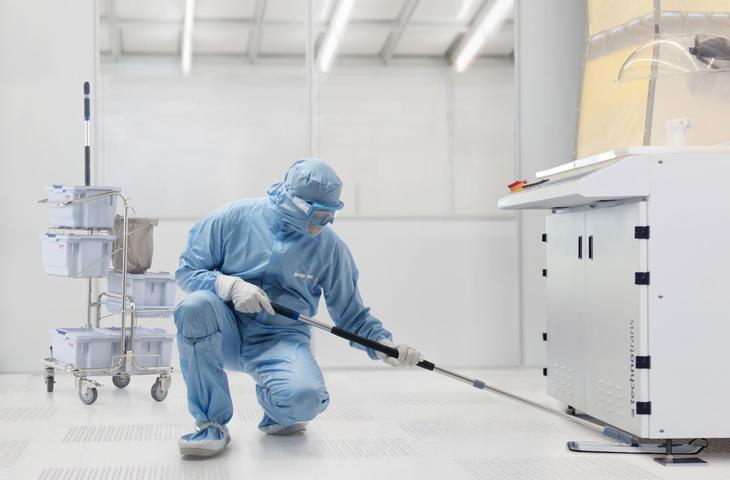 Elis service includes:
Consultancy

Tailored solution for your business

Account set-up

Fitting session for your staff

Delivery of garments & training

Pick up of dirty & delivery of clean products

Decontamination/sterilisation at our laundry

Quality checks of every batch of garments

Validation of all products
Micronswep – Cleanroom mopping system for floor, wall and ceiling
The time and cost-saving lightweight MicronSwep™ cleaning system removes the need for water, wringers and trolleys in cleanrooms as the mops are pre-dosed outside the cleanroom. The system accumulates particles, cleans and dries – all at the same time. Special microfibres on the mop surface ensure that particles are not only removed from the surface being cleaned but are captured within the mop. A single 35cm mop can cover 15m2 and a 50cm mop can cover 20m2 surface.
Fabric: 40 % Polyester Microfibre / 60 % Polyester
Filling: 65 % Polyester / 35 % Polyacryl Nitrite
Backing (white): 100% Polyester
ISO class 4/5 (A/B) environment
Colours available: Grey / White
Sizes available: 35/50 cm
Subscribe to our newsletter