Discover Phoenix: our new range of hygiene appliances made from recycled plastic
Elis solution
At Elis, our circular economy model is based on rental over purchase and services over products.
We are always striving to provide a comprehensive follow-up service to refurnish, repair and recommission our products in order to extend their lifespan as much as possible.
Through our commitments, we hope to support our customers and encourage them to opt for more responsible solutions.
Pursuing this objective, we are pleased to introduce Phoenix, our new range of hygiene appliances made from recycled plastic in Europe.
A complete hygiene solution for users
Our Phoenix range provides hygiene and comfort in your washrooms.
It is composed of 8 devices, ranging from hand hygiene to toilet hygiene.
Devices with clean, elegant lines that look great in your washrooms.  Its understated colour suits any room and will provide a qualitative welcome for your establishment and further strengthen your brand image.
How are the devices manufactured?
The new Phoenix range is manufactured from recycled plastic beads, specifically ABS (acrylonitrile butadiene styrene) plastic.
Pan-European recycling process:
Used plastic collected all over Europe

Transformed into recycled plastic beads in Austria

Used to manufacture Elis products in the United Kingdom
These eight innovative products allow us to:
Reduce the amount of plastic produced

Reduce waste

And contribute to the preservation of the environment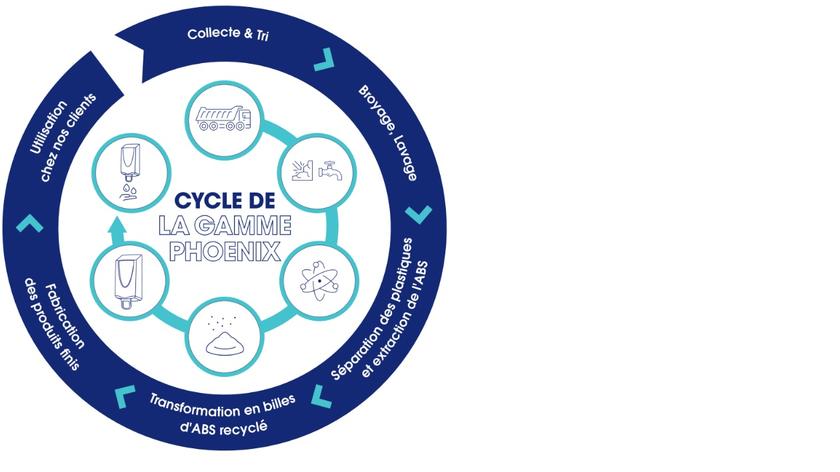 The environmental advantages
Des consommables plus respectueux de l'environnement
Nous vous proposons des consommables certifiés et recyclés :
Nous recommandons également l'usage de la bobine coton associée à notre essuie-mains Phoenix pour renforcer davantage votre engagement RSE.
Pourquoi ?
Parce que s'essuyer les mains avec du coton est un geste respectueux envers l'environnement. En effet, une bobine coton peut être lavée jusqu'à 80 fois avant d'être recyclée en chiffons. La production et l'utilisation de bobines coton ont ainsi un impact limité sur l'environnement en comparaison avec les essuie-mains papier*.
Elis: a trusted hygiene partner
Elis puts its expertise at your service to help you welcome your employees and customers in the best possible conditions. This way, you have every chance to do your job with complete peace of mind. Our advantage remains the all-inclusive service with regular visits by our service agents coupled with the Elis quality of service.
Demandez un devis ou une information