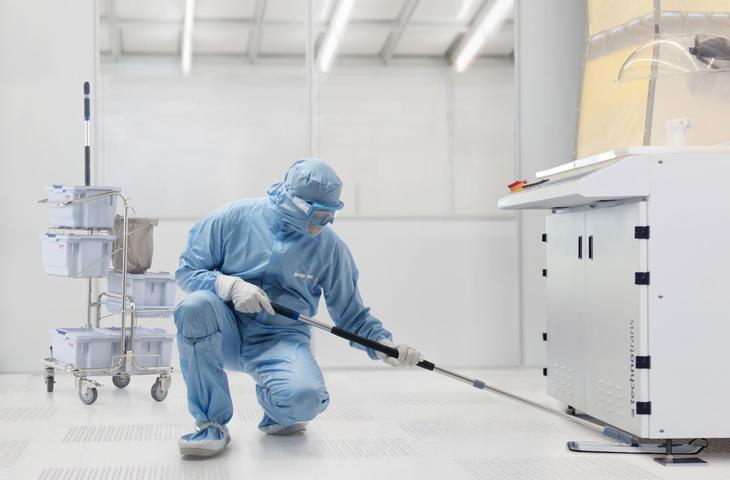 Elis service includes :
Consultancy

Account set-up

Delivery of garments & training

Decontamination/sterilisation at our laundry

Tailored solution for your business

Fitting session for your staff

Pick up of dirty & delivery of clean products

Quality checks of every batch of garments
Micronswep – Cleanroom mopping system for floor, wall and ceiling
The time and cost-saving lightweight MicronSwep™ system removes the need for water, wringers and trolleys in cleanrooms as the mops are pre-dosed outside the cleanroom. The MicronSwep™ system accumulates particles, cleans and dries – all at the same time. Special microfibres on the mop surface ensure that particles are not only removed from the surface being cleaned but are captured within the mop. This is especially important in Lithium-ion battery production where small metal particles can be damaging for the final product.
Fabric: 40 % Polyester Microfibre / 60 % Polyester
Filling: 65 % Polyester / 35 % Polyacryl Nitrite
Backing (white): 100% Polyester
ISO class 4/5 (A/B) environment
Colours available: Grey / White
Sizes available: 35/50 cm
Subscribe to our newsletter